Jean Dooley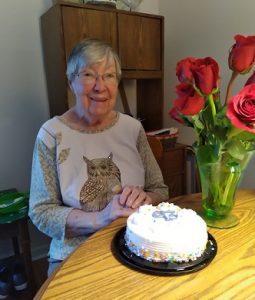 Jean Dooley of Lexington, formerly of Campbellsville, daughter of the late Corbett Abraham Brown and Thelma Hazard Brown, was born January 4, 1930 in Taylor County. She died at 10:19 A.M., Monday, March 6, 2023 in Lexington.    Age: 93
She professed her faith in Christ and was a member of Clear Creek Baptist Church, but had recently been attending Fellowship Baptist Church in Versailles.
Jean was a retired healthcare provider.
She united in marriage to Vernon Lee Dooley June 8, 1945, who preceded her in death August 8, 1976.
Jean is survived by two sons:  Terry Lee Dooley and wife, Kathy of Campbellsville and Darrell Dooley and wife, Tiny of Lewisburg; one daughter-in-law, Jane Dooley of Lawrenceburg; nine grandchildren:  Meredith Dooley and husband, James Hite of Louisville, Chris Dooley and wife, Jennifer of Richmond Hill, Georgia, David Dooley of Palm Bay, Florida, Jason Dooley and wife, Jennifer of Smith's Grove, Tracy Driehaus and husband, Paul of Pottstown, Pennsylvania, Joel Dooley and wife, Bethany of Glasgow, Richard Lee Dooley and wife, Melissa of Campbellsville, Damon Dooley and wife, Ashley of Campbellsville and Alicia Logsdon and husband, Wesley of Nancy, Kentucky; twenty-two great-grandchildren; two great-great-grandchildren; three sisters:  Claudine Gardner of Frankfort, Margie Swears of Campbellsville and Carolyn Pritchard of Finchville; several nieces and nephews and many other relatives and friends.
Besides her husband, Jean was also preceded in death by a son, Charles Dooley; three sisters: Alvina Vincent, Jennifer Sluder and Beulah Mae Wethington and three brothers: Robert Earl Brown, Buddy Brown and Jimmy Brown.
_______________
VISITATION:  10:00 A.M. – 1:00 P.M., Friday, March 10, 2023 at Parrott & Ramsey Funeral Home
FUNERAL SERVICE:    1:00 P.M., Friday, March 10, 2023 at Parrott & Ramsey Funeral Home in Campbellsville by Rev. David Menser
BURIAL:  Brookside Cemetery
EXPRESSIONS OF SYMPATHY REQUESTED TO BE DONATIONS TO GIDEON BIBLES AND BE MADE AT PARROTT & RAMSEY FUNERAL HOME