Charles Thomas "Charlie" Richardson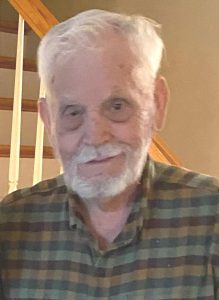 Charles Thomas "Charlie" Richardson of Campbellsville, son of the late Elmer Elder Richardson and Daisy Bird Berry Richardson, was born September 2, 1939, in Taylor County, Kentucky.  He died at 7:24 P.M., Thursday, March 9, 2023 in Campbellsville.    Age:  83
He professed faith in Christ and was a member of First Cumberland Presbyterian Church where he served as a Sunday School teacher, Elder, and Clerk of the Cumberland Presbytery.
He was a member of the Campbellsville Gideon Camp.
Charles was an Educator and Administrator.  He began his career teaching English at Cloverport High School. Then he taught at Bardstown Independent for 4 years before returning home where he taught at his alma mater, Campbellsville High School.  He went on to become principal at CHS in 1980.  He retired in 1991 as an Administrator for the district.  Charles loved the Campbellsville School System and Eagle family.
During the summers, his time was spent managing the softball leagues at Miller Park.  Through his collaborative work with others the City/County Softball Park was developed.  During this time, he worked to provide recreational events for the youth and citizens of Taylor County, influenced many and made lifelong friendships.
Charles dearly loved his bride of 59 years, Phylis Kinser Richardson. They were united in marriage on July 12, 1963.
Family was a big part of Charlie's life, especially his 3 grandchildren.
Besides his wife, Phylis Richardson of Campbellsville, he is survived by two daughters: Lisa Riggs and husband, Kenny and Cheryl Dicken and husband, Mark of Campbellsville; three grandchildren: Evan Thomas Riggs of Troy, Ohio, Nathan Orville Riggs of Madison, Wisconsin and Christa Nell Riggs of Campbellsville; one brother, James (Shorty) Richardson and wife, Carlotta of Lebanon; several nieces and nephews and many other relatives and friends.
Charles was also preceded in death by one brother and one sister: Joe Richardson and Rosa Skaggs.
VISITATION: 5:00 P.M. – 8:00 P.M., Sunday, March 12, 2023 at Parrott & Ramsey Funeral Home in Campbellsville
FUNERAL SERVICE: 11:00 A.M., Monday, March 13, 2023 at Parrott & Ramsey Funeral Home in Campbellsville by Rev. John Butler
BURIAL: Campbellsville Memorial Gardens
EXPRESSIONS OF SYMPATHY REQUESTED
TO BE DONATIONS TO GIDEON INTERNATIONAL AND MAY BE MADE AT PARROTT & RAMSEY FUNERAL HOME