Agnes Warren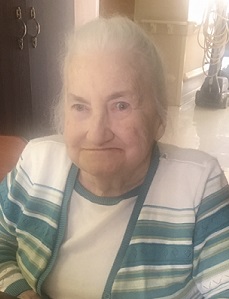 Agnes Warren of Campbellsville, daughter of the late Alfred Beckham Underwood and Nancy Catherine Caulk Underwood, was born October 23, 1940 in Taylor County, Kentucky. She died at 10:50 P.M., Tuesday, May 16, 2023 in Hodgenville.   Age: 82
She professed faith in Christ and was a member of Poplar Grove Methodist Church.
Agnes was a Certified Nurse Assistant and a housewife who loved taking care of her family.
She united in marriage to Gilbert Warren December 25, 1959 and he preceded her in death February 22, 2023.
She is survived by three daughters and one son: Sheila Massengale of Pine Knott, Lisa Stillwell, Nancy Mings and husband, Tony of Campbellsville and Mike Warren and wife, Lou Ann of Columbia; seven grandchildren; eleven great-grandchildren; two sisters-in-laws: Bernice Stillwell of Hodgenville, Mary Warren of Summersville and Agnes Gunter and husband, Rollin of Franklin, Indiana; several nieces and nephews and many other relatives and friends.
Agnes was also preceded in death by one sister, Opal Oaks, one brother, Ingram Underwood and a brother in infancy
________________
VISITATION:  12:00 Noon – 3:00 P.M., Sunday, May 21, 2023 at Parrott & Ramsey Funeral Home
FUNERAL SERVICE:  3:00 P.M., Sunday, May 21, 2023 at Parrott & Ramsey Funeral Home in Campbellsville by Rev. Freddy Thompson
BURIAL:  Poplar Grove Methodist Church Cemetery