Maye Smith Gore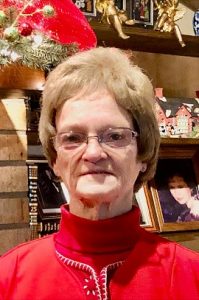 Maye Smith Gore of Campbellsville, daughter of the late Edwin "Rube" Smith and Beryl "Bea" Goff Smith, was born February 6, 1946 in Taylor County, Kentucky.  She died at 12:26 P.M., Monday, May 22, 2023 in Campbellsville.   Age:  77
She professed faith in Christ and was a member of New Journey Church.
Maye was an employee of Fruit of the Loom in Campbellsville for twenty years and an employee of Taylor Regional Hospital for fifteen years.
She liked to be outside and working in her flowers and enjoyed spending time with her special cat, Callie Jo.
She united in marriage to Eddie Greer August 14, 1964 and he preceded her in death October 31, 1977.  She later united in marriage to H. C. Gore July 1, 1978 and he preceded her in death December 14, 2018.
She is survived by one sister and brother-in-law, Faye and Jr. Parson of Campbellsville; special friends:  Glenn Perkins and Chuck and Abbey Lawson of Campbellsville and Sheila Benningfield of Finley, several cousins and many other relatives and friends.
________________
VISITATION:  9:00 – 11:00 A.M., Saturday, May 27, 2023 at Parrott & Ramsey Funeral Home
FUNERAL SERVICE: 11:00 A.M., Saturday, May 27, 2023 at Parrott & Ramsey Funeral Home in Campbellsville by Bro. Jeff Edwards
BURIAL:  Campbellsville Memorial Gardens