Virginia Cole Caffee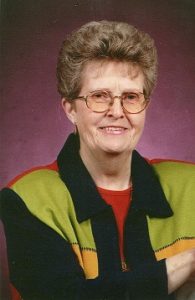 Virginia Cole Caffee of Campbellsville, daughter of the late George Beckham Cole and Nina Fudge Cole, was born February 2, 1935 in Adair County, Kentucky.  She died Tuesday, May 23, 2023 at Bluegrass Way Assisted Living  in Campbellsville.   Age:  88
She professed faith in Christ and attended Spurlington United Methodist Church.
Virginia was a retired Teller at the Bank of Columbia and did numerous jobs at the bank over her 42 year career.
She united in marriage to Floyd Caffee August 29, 1977 and he preceded her in death June 5, 1991.
She is survived by one step-son: Norman Feese and wife Sharon of Campbellsville; one sister-in-law: Sonya Fagon of Raleigh, North Carolina; a special young lady that she considered to be her daughter: Reta Gentry; a special, faithful and loving friend: Hollis Rogers; and her Wednesday driving buddy: Alberta Lowe;  many other relatives and friends.
Virginia was also preceded in death by one brother: Beckham Cole Jr.
________________
VISITATION:  8:00 – 11:00 A.M., Friday, May 26, 2023 at Parrott & Ramsey Funeral Home
FUNERAL SERVICE: 11:00 A.M., Friday, May 26, 2023 at Parrott & Ramsey Funeral Home in Campbellsville by Rev. Mark Price and  Rev. Robert Morris
BURIAL:  Brookside Cemetery
EXPRESSIONS OF SYMPATHY REQUESTED TO BE DONATIONS TO GIDEON BIBLES AND MAY BE MADE AT PARROTT & RAMSEY FUNERAL HOME