Sherry Raffety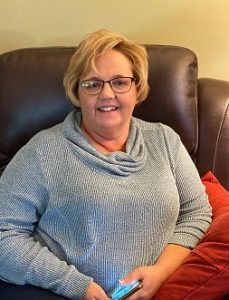 Sherry Raffety of Campbellsville, daughter of James R. "Boody" Benningfield and the late Shirley McNear Benningfield, was born November 21, 1964 in Marion County, Kentucky.  She died at 9:36 A.M., Wednesday, May 24, 2023 in Louisville.  Age:  58
She professed faith in Christ and was a member of Our Lady of the Hills Catholic Church.
Sherry was employed as a medical assistant.
She united in marriage to Larry Raffety June 12, 1982.
Sherry loved everyone; she was a good friend and caregiver like no other.  She loved to laugh and joke and was an inspiration to others. Her family called her "The Queen."
Besides her husband, Larry Raffety of Campbellsville, she is survived by two daughters:  Christy Higdon and husband, Nick of Big Clifty and Jessie Newton and husband, J. D. of Finley; one grandson, Bradley Newton; her father, James R. "Boody" Benningfield of Finley; one brother, Brian Benningfield and companion, Tammy Hayes of Finley; several nieces and nephews and many other relatives and friends.
Sherry was also preceded in death by a sister, Angela Sue Benningfield Shipp.
________________
VISITATION:   4:00 – 8:00 P.M., Monday, May 29, 2023 at Parrott & Ramsey Funeral Home
FUNERAL MASS:    11:05 A.M., Tuesday, May 30, 2023 at Our Lady of the Hills Catholic Church in Finley by Rev. Fr. Saju Vadakumpadan
BURIAL:   Our Lady of the Hills Catholic Church Cemetery
EXPRESSIONS OF SYMPATHY REQUESTED TO BE DONATIONS TO OUR LADY OF THE HILLS CATHOLIC CHURCH CEMETERY FUND AND MAY BE MADE AT PARROTT & RAMSEY FUNERAL HOME