Jerry Wayne Murphy, 80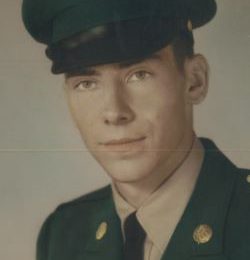 Jerry Wayne Murphy of Campbellsville, KY, the son of the late John Thomas Murphy and Ruby Marie Daughtery Murphy, was born August 1, 1943 in Marion County, KY and departed this life on Wednesday, August 30, 2023 at the Bluegrass Care and Rehab Center in Lexington, KY. He was 80 years of age.
He was retired from the City of Campbellsville having worked in the street dept. as a backhoe operator. Mr. Murphy served his country honorably in the United States Army and served in Vietnam.
He is survived by one daughter: Brandy Love and companion Chuck Mills of Nicholasville, KY, One grandson: Brennon Murphy and wife Makenzie of Lawrenceburg, KY. One brother and two sisters: Joseph Murphy, Donna Ray Thompson, and Delores Farmer.
Besides his parents, he was preceded in death by his wife Marcia Benningfield Murphy and one son: Brent Murphy. Two brothers and two sisters: James Murphy, Roger Murphy, Elizabeth Stubbs and Louise Shaw.
There will be a memorial service for Jerry Wayne Murphy on Friday, September 22, 2023 at 11:00 A.M. EDT at Campbellsville Memorial Gardens Cemetery.
Bro. Freddy Thompson will officiate.