Chief Jimmie Cox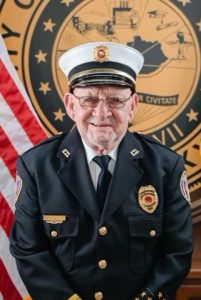 CHIEF JIMMIE COX
Jimmie Cox of Campbellsville, son of the late Ed Cox and Hazel Hare Cox, was born June 16, 1936 in Taylor County, Kentucky. He died at 11:56 P.M., Friday, September 22, 2023 in Campbellsville.              Age:  87
He professed faith in Christ and was a member of Saloma Baptist Church.
Jimmie enjoyed spending his time camping and taking care of his family after retiring. He loved babysitting his grandchildren and great-grandchildren.
Jimmie served his community as a Firefighter. He started his career in October of 1958 as a dispatcher while living at the firehouse. He went on to become the Chief of the Campbellsville Fire Department from 1973-1996 and was a member of the Kentucky Firefighter Association where he served 1 year as President and 7 years as Vice President. He had numerous accomplishments during his time as fire chief such as opening the Fire Training Center, developing activities for fire prevention week, working to get a mini pump truck and an aerial fire truck, developing Toys for Kids program and working with the WHAS Crusade for Children.
Jimmie also worked as a security guard for Pinkerton.
Jimmie united in marriage to Wanda Shipp December 30, 1981.
Besides his wife, Wanda Cox of Campbellsville, he is survived by two sons and one daughter: Butch Cox and wife Ann of Campbellsville, Barry Cox and wife Dee Dee of Pace, Florida, and Loria Christie and husband Jim of Campbellsville; two step-children: Leslie Richerson and wife, Chun, and Terry Richerson and wife Gaynelle and step-daughter-in-law, Lisa Richerson all of Campbellsville; thirteen grandchildren: Lauryn Tedrow and husband Jordan of Campbellsville, Chance Cox of Dayton, Ohio, Maci McQueary and husband Adam, Hunter Christie and wife Brooke of Bowling Green, Janet Judd, Jason Richerson, Jesse Richerson, Tristian Richerson, Jade Morton, Ada Justice, Miranda Sadler, Loren Fulkerson, and Jessalyn Read; nineteen great-grandchildren; four sisters: Brenda Wells and Karen Spurling of Campbellsville, Judy Henning of Shepherdsville, Betty Jo Sturgill of London; several nieces and nephews and many other relatives and friends.
Jimmie was also preceded in death by one brother: Jerry Ray Cox and one step-son, John Richerson.
VISITATION: 4:00 P.M – 8:00 P.M., Monday, September 25, 2023 at Parrott & Ramsey Funeral Home
FUNERAL SERVICE: 1:00 P.M., Tuesday, September 26, 2023 at Parrott & Ramsey Funeral Home in Campbellsville by Rev. John Chowning
BURIAL: Brookside Cemetery
Expressions of sympathy requested to be donations to Toys for Kids or WHAS Crusade for Children and may be made at Parrott & Ramsey Funeral Home