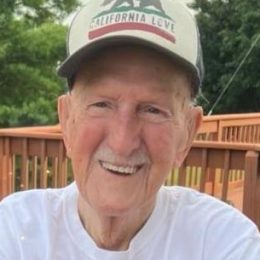 John Joseph Love of Campbellsville, KY, was born July 10, 1928, in Terre Haute, IN to the late Phillip Love and Julia Mugerle Love, and departed this life Wednesday, November 15, 2023, in Campbellsville. He was 95 years of age.
He professed faith in Christ and attended Good Hope Baptist Church. He was a retired warehouse dock worker. He had also worked for Ideal Roller and Graphics. He enjoyed woodworking, calligraphy, sharing and giving away trinkets and Jesus fish emblems all over Taylor County. He united in marriage to Edna Love who precedes him in death. He later united in marriage to Lou Aleene Thurman Love who also precedes him in death.
He is survived by three daughters: Catherine Ann Dickey and husband David of California, Christine Moran Cundiff and Steven "Tommy", and Becky Wilkerson and Fiance Jeremy Wile all of Campbellsville.
Thirteen grandchildren: Jacob Dickey, Jessica Todd, Jeremiah Dickey, Janine Dickey, Rachel Ashley, Courtney Moran, Jordan Moran, Alexis Hubbard, Jacob Cundiff, Brady Wilkerson, Monica Wilkerson, Simon Wilkerson, and Daisy Wilkerson. Eight great-grandchildren and one great–great–grandchild.
Besides his parents and his wives, he was preceded in death by three sisters, and one brother: Betty Lightner, Ann Hurst, Phillip Love, and Mary Voytek-Sich, along with two sons-in-law, James Moran and Charles Wilkerson.
The family has chosen cremation and there will be a memorial service for John Joseph Love on Saturday, December 2, 2023, at 11:00 A.M. at the L.R. Petty Funeral Home Chapel 1765 New Columbia Rd. Campbellsville.
The family requested visitation on Saturday, December 2, 2023, from 10:00 A.M. until the time of the service at the funeral home.

Read More