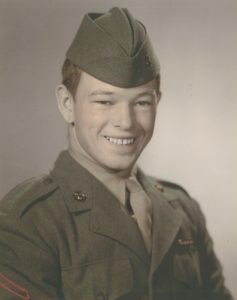 Mr. David Lee "Joaner" Nelson of Campbellsville, son of the late William and Edna (Stearman) Nelson, passed from this life on Monday, April 30, 2018 after an extended illness. Born on July 28, 1931, he was 86 years, 9 months, and 2 days of age. Mr. Nelson was a retired truck mechanic for Flav-o-Rich and Chappell Dairy. He had made a profession of faith in Christ and was a member of Robinson Creek Baptist Church. He was a veteran, having served his country honorably in the United States Marine Corps from 1952-1955. Mr. Nelson enjoyed stock car racing, and won several trophies as an amateur driver. As a man that always tried to better himself, he was also a competitive bowler, but he loved his family above all else.
He leaves to cherish his memory:
His wife: Ruby (Carlisle) Nelson of Campbellsville,
A step-daughter: Pam Gribbins and husband Eric of Campbellsville,
A step-son: Keith Spurling of Campbellsville,
Four siblings: Thelma Barnes, Betty Sharp, Rachel Durham, and Allen Nelson, all of Campbellsville,
Five grandchildren,
Eleven great-grandchildren,
A special friend: Brian Caulk of Lexington,
And a host of other family and friends.
He was also preceded in death by five siblings: Pearl Sullivan, Ruth Nelson, Gladys Milby, Florence Curry, and Buckner Nelson.
There will be a funeral service to honor the life of Mr. Nelson on Wednesday, May 2, 2018 at 2:00 PM in the chapel of the L.R. Petty Funeral Home, 1765 New Columbia Rd, Campbellsville, KY. Bro. Jim Collison will be officiating. Interment will follow in the Zion Cemetery, Maple Rd, Campbellsville, KY. Full military honors will be conducted by the Marion County Veteran's Honor Guard.
The family will receive friends on Wednesday, May 2, after 10:00 AM until time for the service.

Read More