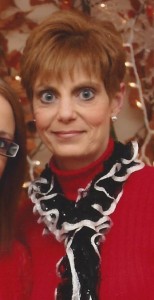 Angela Bault Milby, age 44 of Campbellsville, passed away on Saturday in Campbellsville at her home.
Survivors include a daughter: Kori Bault of Campbellsville.
A brother: Donnie Bault and wife Vickie of Campbellsville.
A niece: Andrea Bault and fiance' Tyler Bland of Campbellsville.
A Godchild: Pauline Richmond of Campbellsville.
Special friends: Willie Haskins, Tracy Thompson and Cecilia Cave all of Campbellsville.
The funeral service for Angela Bault Milby will be conducted Monday at 1:00 P.M. at the L.R. Petty Funeral Home with burial to follow in the Brookside Cemetery.
Visitation from 5-8 PM on Sunday at the funeral home.
Family requests expressions of sympathy be a donation to the funeral expense fund and can be made at the funeral home.
Read More