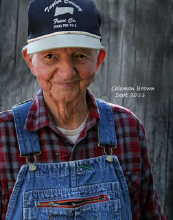 Mr. Colman Brown passed away on August 9, 2013, in Campbellsville at the age of 94, surrounded by his family and friends. He was a life-long farmer and a devoted husband of 73 years to Helen Brown. He had professed faith in Christ, and was a member of Mt. Roberts Baptist Church.
Besides his wife, Helen (Skaggs) Brown, he is survived by:
One son – Ronnie Brown and his companion, Regina McDonald of Taylor County
One sister – Marie Maness of Gainesville, GA
Three grandchildren – Marcia Underwood, and her husband Mickey, of Campbellsville, Bobby Brown of Campbellsville, and Troy Brown of Lexington
Three great-grandchildren – Josh Brown, Bryson Skaggs, and Kaylee Brown
One great-great-granddaughter – Joss Scout Brown
and a host of other friends and relatives.
He was preceded in death by his parents, Wesley and Ollie (Milby) Brown, a daughter, Brenda Beams, an infant son, Robert Wesley Brown, and three sisters, Dorothy Colvin, Louise Shuffett, and Lillian Hedgespeth.
Visitation for Mr. Colman Brown will be held at the LR Petty Funeral Home in Campbellsville on Saturday, August 10, from 5:00-8:00 EST, and on Sunday, August 11, from 8:00-1:00 EST.
There will be a graveside service at Campbellsville Memorial Gardens on Sunday, August 11, at 2:00 PM EST with Bro. Otis Skaggs officiating.
Memorials are suggested to Gideon Bibles or the Taylor County FFA, and may be made in person or at the funeral home.
Read More