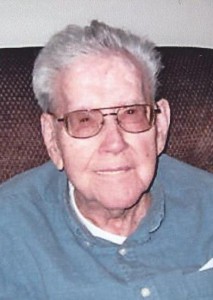 Mr. Albert Roy Antle, Sr. of Campbellsville passed away peacefully on Thursday, June 19, 2014 surrounded by his family and friends. He was 93 years, 2 months, and 3 days of age. Mr. Antle was one of four children born to the union of Rue and Maud (Walls) Antle of Green County. He was a veteran of the United States Army, having served his country honorably during WWII. He was awarded numerous medals, including a Purple Heart and a Bronze Star, for his many sacrifices. After the war, he returned home and married his sweetheart, Vivian Webb, in 1945. During the course of their 55 years of marriage, Mr. Antle earned his living as a bus driver for the Green County School System and a truck driver for Merle Wise Trucking. He professed faith in Christ and was a member of East Campbellsville Church of God.
Mr Antle leaves to cherish his memory:
Four children: Roy Antle, Jr. and wife Gayle of Greensburg, Bonnie Antle of Campbellsville, Connie Crowe and husband Larry of Campbellsville, and Frances Martin of Campbellsville,
One sister: Inez Caven of Hodgenville,
Ten grandchildren,
Numerous great and great-great grandchildren,
His caregiver: Bea Brown and husband Archie of Campbellsville,
And a host of other extended family and friends.
He was preceded in death by:
His wife: Vivian (Webb) Antle
His parents: Rue and Vivian (Walls) Antle,
One son: Roger Dale Antle, Sr.
Two brothers: Coy Antle, and a brother in infancy
Two granddaughters: Rhonda Gayle Arnett and Stephanie Renea Arnett
There will be a funeral service conducted at the L.R. Petty Funeral Home, 1765 New Columbia Rd., Campbellsville, KY 42718 on Saturday, June 21, 2014 at 2:00 PM EST. Bro.'s Robbie Spencer, Daniel Perkins, and George Blevins will officiate. Interment will follow in the Brookside Cemetery with full military honors performed by the Marion County Honor Guard.
The family will receive visitors at the funeral home on Saturday, June 21, from 10:00 AM EST until time for the service.
Pallbearers are: Roy Antle, Jr., Scotty Antle, Roger Dale Antle, Jr., Steven Arnett, Jason Antle, and Matt Carter. Several friends and family will stand as honorary pallbearers.
In lieu of flowers, the family requests that memorials take the form of donations to the East Campbellsville Church of God Campground Fund, and can be made at the funeral home.
Read More