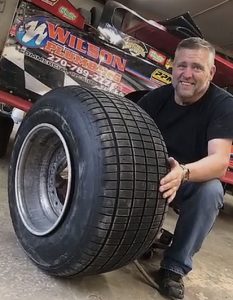 Johnny "Wheelman" Wheeler of Campbellsville, son of Maryvene Walls Wheeler and the late Junior Wheeler, was born July 16, 1963, in Marion County, Kentucky. He died at 12:08 A.M., Tuesday, May 29, 2018 in Campbellsville. Age: 54
Johnny was a believer in Christ. He was an employee of Wholesale Hardwood Interiors for over twenty years. Johnny, better known as "The Wheelman", had a successful career in the dirt track racing circuit and was instrumental in helping others get into the sport of go cart racing. He was very thankful for all the support he received from his fans during his racing career. Outside of racing, his greatest joy was spending time with family and grandchildren.
He united in marriage to Jammie Cox July 22, 2005.
Besides his wife, Jammie Wheeler of Campbellsville, he is survived by one daughter and one son: Amber Vaughn and husband, Brad of Campbellsville and Johnathan Michael Wheeler and wife, Katie of Greenville, South Carolina; two step-children: Ashley Hoosier and John Bradley Hoosier of Campbellsville; four grandchildren: Hunter Vaughn and Reace Vaughn of Campbellsville and Izabella Wheeler and Blayden Wheeler of Greenville, South Carolina; his mother, Maryvene Wheeler of Sonora; one brother and one sister: Larry Wheeler and Frankie Cox and husband, Roger of Campbellsville; special friends: Lewis Brady and wife, Phyllis of Summersville, Kelly Wheeler and wife, Dolly, George McDonald and Robbie Wilson and wife, Shannon of Campbellsville and the Petty Family. several nieces and nephews and many other relatives and friends.
He was also preceded in death by a brother, Jeffrey Lynn Wheeler December 18, 1991.
VISITATION: 4:00 – 8:00 P.M., Thursday, May 31, 2018 at Parrott & Ramsey Funeral Home
FUNERAL SERVICE: 11:00 A.M., Friday, June 1, 2018 at Parrott & Ramsey Funeral Home in Campbellsville by Minister Fella Wilson
BURIAL: Campbellsville Memorial Gardens
Read More