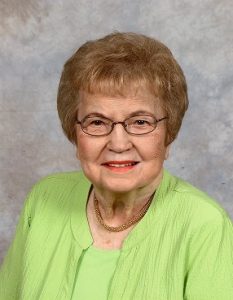 Bettye Jean Kincheloe of Campbellsville, daughter of the late Henry Franklin Mardis and Golda Mae Tharp Mardis, was born July 24, 1934 in Marion County, Kentucky.  She died at 2:45 P.M., Tuesday, May 16, 2023 in Campbellsville.   Age:  88
She professed faith in Christ and was a member of Campbellsville Baptist Church.
Bettye Jean united in marriage to Jesse Morris Kincheloe October 19, 1962 and he preceded her in death August 14, 2011.
She is survived by daughters:   Karen Patton of Chicago, Illinois and Laura Kincheloe of Lexington; one sister, Anne Mardis of Campbellsville; one niece, Susan Skaggs and husband, Terry of Owensboro; several special cousins and many other relatives and friends.
________________
VISITATION:  10:00 A.M. – 12:00 Noon, Saturday, May 20, 2023 at Parrott & Ramsey Funeral Home
FUNERAL SERVICE: 12:00 Noon, Saturday, May 20, 2023 at Parrott & Ramsey Funeral Home in Campbellsville by Dr. James E. Jones and Rev. Ed Pavy
BURIAL:   Brookside Cemetery
EXPRESSIONS OF SYMPATHY REQUESTED TO BE DONATIONS TO GIDEON BIBLES AND MAY BE MADE AT PARROTT & RAMSEY FUNERAL HOME
Read More